Breastfeeding in Sheffield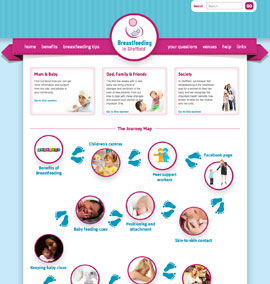 We're proud to announce that the new website for Breastfeeding in Sheffield has been launched!
Earlier this year, we were contacted by Clare from the Breastfeeding in Sheffield Awards. They were looking into having a website, to supersede their existing Facebook page, which was well-used by Mums in the Sheffield Area. Their aim was to make Sheffield a Breastfeeding-friendly city.
Clare and her colleagues, in partnership with Sheffield City Council, put together the content for the website, and told us of the style of website they would like to see. They preferred a slightly 'retro' look, with lots of space for content. The site would be heavily-information based, giving Mums and their families plenty of information about the benefits of breastfeeding and how to breastfeed in public.
One of the more innovative aspects of the site features on the home page; the 'Breastfeeding journey'. This is a pictorial guide to breastfeeding, which provides access to much of the information contained in the site.
We also created a Google map containing pins showing the locations of all of the breastfeeding-friendly venues in the Sheffield area, so that Mums and families can get a good idea of where to go, where they will be able to breastfeed in public.
The whole site is geared towards providing as much information as possible about breastfeeding, in an interesting and accessible way.
You can see the site at: www.breastfeedinginsheffield.co.uk